How To Use RAM As Hard Drive? How To Create RAMDisk?
If you're having an excess amount of RAM on your system, mostly unused, you can use it to create a RAM Drive or RAM Disk. You can take its advantage to reduce application load times, improve performance while playing games, or store 4K movies for better playback. There are various RAMDisk software available, both free and paid, which can be used to create and temporary or persistent RAMDisks.
G
etting a faster storage is every computer user's dream. Most of the people now have the choice of using SSDs, but they are considerably costlier than the magnetic hard drives. However, if you have like loads of RAM sitting idle inside your PC, it can be a great source to construct some lightening fast storage media, even faster than the SSD.


What is a RAMDisk or RAM Drive?
RAMDisk is a term given to a virtual drive created on the system which uses the blocks on your physical RAM to store data. Early attempts to make storage media using RAM date back to 1980s. The development followed, and we actually have RAM-based hard drives. But these couldn't go as viral as magnetic hard drives and later, SSDs, because of the high cost of the RAM storage and a continuous need to a power supply.
Why use RAMDisk?
The reason why RAM is a separate piece of memory on your computer is because of its speed. Creating a RAMDisk would allow you save data on the fastest possible storage on your computer. It's no denying the fact that you'll notice a substantial reduction in the load times for programs you've have installed on a RAM drive. That's because there is no need of transferring the files from your hard drive to the RAM.
One of the important aspects of maintaining the RAM Disk is retaining data after you turn off your computer. RAM is volatile memory, and it can't remember anything after the power goes off. So, all of the software and files you store on the RAM Disk are gone.
Now, here we find the need of RAMDisk software which in addition to creating the RAM Disk also stores the data onto your hard drive every time you shut down your PC and reloads it on the RAM Disk when you turn it back on. You can choose from a variety of RAM Disk software, and some of them have been
benchmarked
by Raymond.
In order to create a RAMDisk, make sure your computer has enough amount of RAM. This is because Windows OS needs around 2GB memory to function properly. And you have to leave a spare 1GB memory for other software. So, to create a 1GB RAMDisk you should have at least 4GB RAM on your computer.
Also, if you're a running a 32-bit Windows, the maximum RAM it supports is 4GB. So, you don't have a considerable window while setting up a RAMDisk. There is no such limit in the case of 64-bit Windows. So, if you have like 8GB or 16GB chip, then it's easy to blow an 8GB RAMDisk inside your memory.
How To Use RAM As Hard Drive In Windows 10? | Create RAM Disk
There is a number of paid and free RAMDisk software for Windows 10 and older versions. You might have heard about Dataram RAMDisk which is available in free and paid options. Here is how you can set up a RAMDisk using this software:
Install Dataram RAMDisk after downloading it using this link (scroll to the bottom of the web page).
The default view is somewhat confusing. So, you can switch to View>Advanced if you want.
Now, under the Settings tab, select the size of the RAMDisk. It can only go up to 1023MB in the free version. However, the paid version supports up to 64GB.

Under the Load/Save tab, make sure Load Disk Image at Startup and Save Disk Image at Shutdown are ticked. This will make sure your files don't evaporate when you shutdown the PC.

Now you can explore the Options tab or click Start RAMDisk to get your virtual disk into action.
The RAMDisk you have created will appear in your My Computer as a regular local disk. This way you can use your RAM as hard drive, not literally though. You can stop the RAMDisk using the software anytime. Also, you can close the Dataram window, it will work in the background.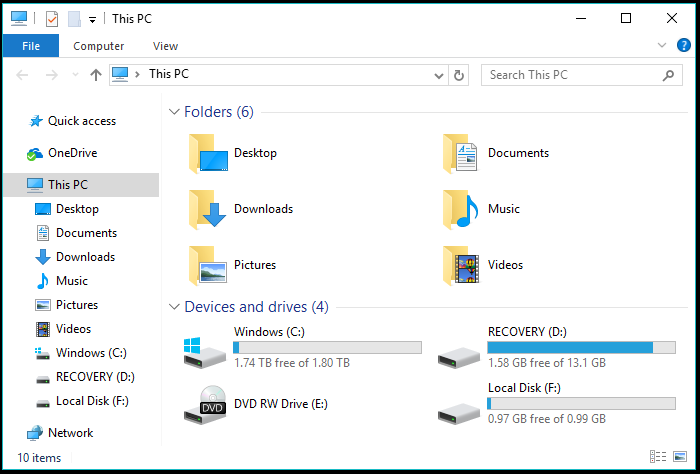 Dataram is easy but its 1GB limit is a serious drawback. AMD Radeon RAMDisk is an official variant of Dataram optimized for AMD-branded memory. But it still works with regular memory and increases the size up to 4GB (with 8GB RAM) for the free version. You can download AMD Radeon RAMDisk using
this link
. The user interface is almost the same.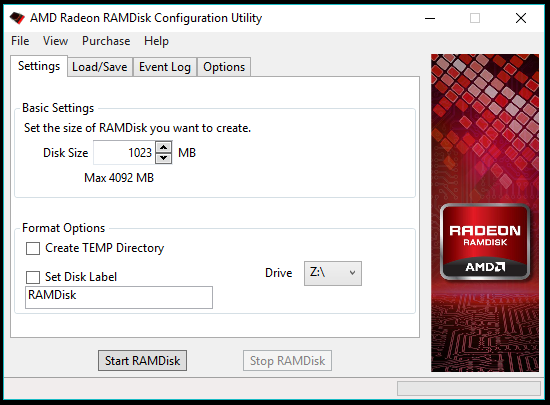 If you plan to uninstall Dataram RAMDisk, delete the image file located in root folder of your system drive, mostly C.
For those who want to go with a free and open source RAMDisk software, Imdisk is the answer. ImDisk promotes itself as a virtual disk driver instead. You can download ImDisk using
this link
.
After installation, ImDisk can be controlled using the CMD and it also appears as an applet in the Control Panel where you can access the application. Also, there is a modified version called
ImDisk Toolkit
which is more user-friendly.
There is no limit on the size of the RAMDisk but it comes at the cost of a tougher RAM Disk setup process. A sense of relief is you can create more than one RAMDisks on your computer.
Creating a RAMDisk using ImDisk's GUI isn't a rocket science, but the storage so created isn't persistent. The moment you restart your machine, your RAMDisk is nowhere to be seen. You can follow the
CMD-method detailed
by a Guru3D forum user if you want to create a RAMDisk that can survive restarts and shutdowns.
Similarly, you can use some other RAMDisk software to take advantage of your extra RAM. You can install programs, games, or store any type of content you want to access quickly. However, one thing to note here is keeping a RAMDisk on a daily basis can slow down your shutdown and boot times. That's because your machine will update the image file on the hard drive with the latest data present on the RAMDisk and the same will be loaded during startup. Most paid RAMDisk software update the image file in the real time so the problem is the case of the users shelling out cash from their pocket.
This was a brief overview of What are RAMDisks? Why do you need RAMDisks? And how can you create a RAMDisk and use ram as hard drive? If you found this helpful, drop your thoughts and feedback.