Apple's new iPhone 7 and iPhone 7 Plus to come with A10 Fusion 64 bit quad-core processor, new Black and Jet Black colours, AirPods instead 3.5 mm headphone jacks
Here is the new iPhone 7 from the house of Apple. Apple's iPhone 7 launch going on in San Francisco and half the tech world is glued to the release. The new iPhone 7 was announced amidst great fanfare by Tim Cook by Apple CEO.
Here is what the new iPhone 7 will look like. iPhone 7 will come in two versions, iPhone and iPhone Plus. It will come in two new shades, Jet Black and Black in addition to the normal iPhone shades like Rose Gold. It will have a redesigned and reengineered home button. The new home button on iPhone 7 and iPhone 7 Plus is customisable and you can use it for quick actions, messages, notifications and more through Taptic Engine API. The new Home Button is similar to the Force Touch trackpad you use on your Mac PCs.
iPhone 7 and iPhone 7 Plus will be dust and water proof meeting the IP67 waterproofing standards.
Camera on iPhone 7
Apple has improved the camera on iPhone 7 tremendously. The new iPhone 7 will come with Quad-LED true tone flash. It will also bring a new feature called Flicker Sensor. iPhone 7's photo sensor can perform hundred billion functions every time you take a photo. iPhone 7 will come with dual cameras with two 12MP lens. The first lens will be used for normal photos while the second one a telephoto zoom lens and will be used for zooming upto 10x .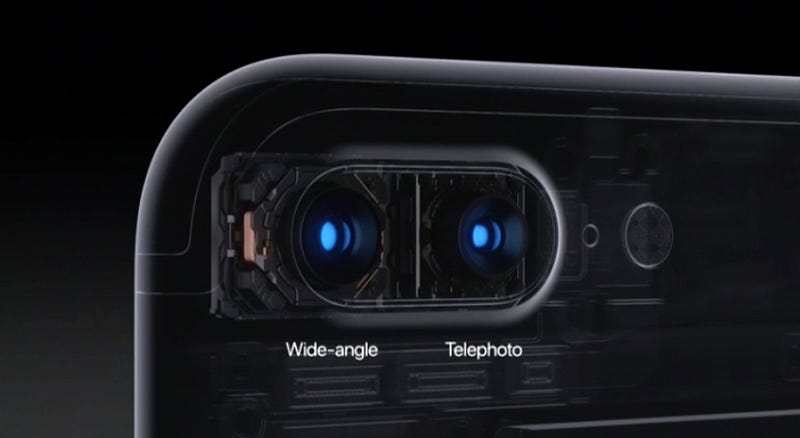 Both iPhone 7s will have a 7MP Facetime HD front camera for selfies. The front camera also comes with a feature called "wide colour capture" along with auto image stabilisation.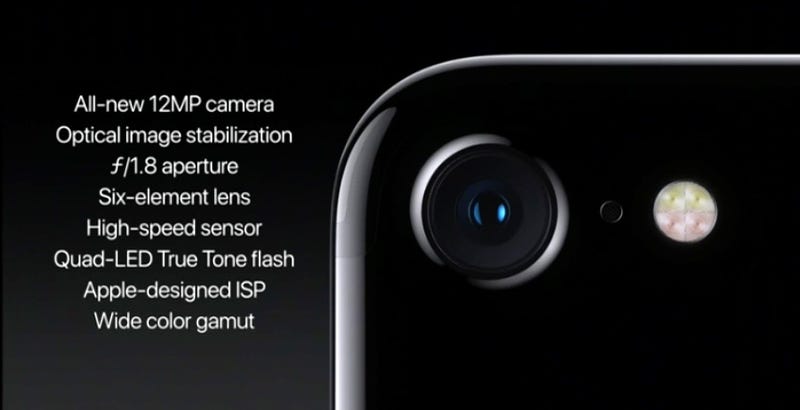 Display on iPhone 7
Apple has continued with the display size of iPhone 6s with iPhone 7 and iPhoen 7 Plus. However, it will be 25 percent brighter according to Apple. It will also have 3D touch like iPhone 6s
No 3.5 mm headphone jacks
As was rumoured, iPhone 7 and iPhone 7 Plus will not have 3.5 mm headphone slot. Instead, it will connect to the headphones through lightning connector. However, Apple will be shipping lightning to 3.5 mm connector adapter bundled with every iPhone 7.
Apple also announced new Apple AirPods. Apple said that built-in sensors will detect when the AirPod is in your ear. The music will start playing once AirPod had detected your ear. Users can also use Siri to access the AirPod directly. Each AirPod will last for 5 hours on a single charge according to Apple. You can also use a single AirPod or use them both for a stereo setup. AirPod will be powered by a new chip called
W1.
Beats will be launching new set of AirPods called BeatsX.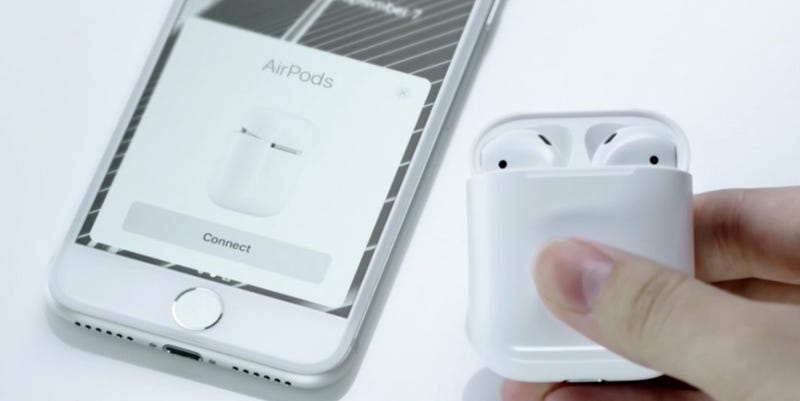 Apple Pay
Apple is expanding its wallet, Apple Pay to all countries. It will also launch in Japan with a new NFC technology called FeliCa.
Under the Hood
iPhone 7 will come with a new chip called
A10 Fusion.
A10 Fusion is a 64 Bit Quad Core processor with 3.3 billion transistors. Out of the four cores, two cores will be running at lower power to save power and increase battery life. Apple said that the new A10 Fusion will be performing 50 percent better than the earlier A9 chip and three times faster than A8.
Apple said that its A10 Fusion is the most powerful smartphone processor in the world today and can run any game flawlessly. Apple displayed A10 Fusion's power with a game called Broken Kingdom with 400 flying monkeys. A10 Fusion will give iPhone 7 and 7 Plus the longest battery life ever.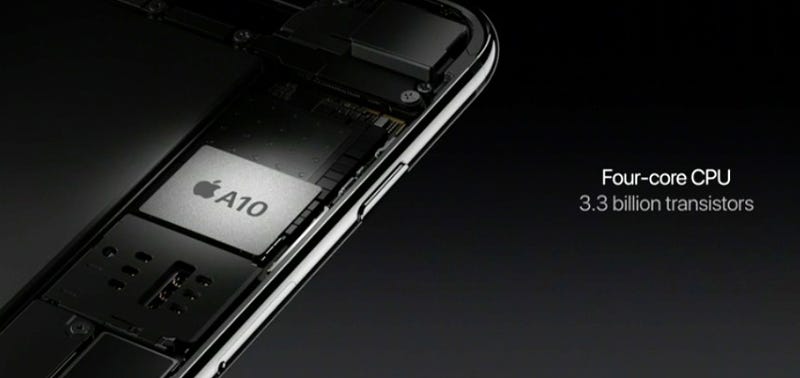 iPhone 7 will come with a new feature called LTE Advanced for connectivity with speeds up to 450 Mbps in addition to all the other iPhone features.
iPhone 7 Price
iPhone 7 will start at $649 for 32GB, the other options are 128GB and 256GB. While iPhone 7 Plus will start at $769 for 32GB version. iPhone 7 pre-orders will start on 9th September and will be available to buyers on 16th September in 28 countries around the world with 30 countries to be added a week later.
The new AirPods will ship at $159 and start shipping in October.